Al-Futtaim Group is looking to hire staff & Apply Now. See complete job details including job description, responsibilities, salary & requirements. Eligible candidates are encouraged to apply. Submit Your Application To Click On Apply Link For Position – Al-Futtaim Careers in UAE 2023 | New Job Openings
---
Company: Al-Futtaim Group
Industry: Conglomerate company
Job Type: Full-Time
Salary: AED
Location: Dubai
Closing Date: Feb, 02-2023
---
position And Detail OF the Job & Apply Link Are Given Below:
—- | Beauty Advisor | Watsons | Dubai Mall| —-
Job Description
We are looking for Beauty Advisor Jobs in Dubai – UAE.
The Beauty Advisor is primarily responsible for selling products through courteous, friendly, caring, efficient service and accurate on-time execution of merchandise display and promotion. She should exhibit full product knowledge to engage and satisfy customers which will impact sales and ultimately drive business growth.
Job Responsibility–
A- Recommends appropriate products and provides information highlighting the Features, Advantages, and Benefits to the customers.
B- Assists in locating, selecting, and purchasing desired products based on the preferred brand, variant, and color of the customer. 
C- Ensures products on display are replenished as needed with complete shelf tag price, and price tags.
D- Weekly monitors price changes and updates shelf/price tags as needed.
E- Accomplishes MFP and PDP on time.
F- Strictly complies with set company policies and procedures, especially on attendance, punctuality, and code of conduct and set grooming standards.
Job Requirement–
A- High school or Bachelor's Degree.
B- 3-5 years experience in a similar field. 
C- Good communication skills.
D- Good knowledge of the fashion/beauty industry and trends Retail operational skills (stock, VM, systems, cash…) Computer skills.
E- Empathy Customer service and results oriented Leadership and problem solving skills.
Salary & Benefits-
Join us in Dubai – UAE and enjoy an attractive tax-free salary and travel benefits exclusive to our industry, including discounts on flights and hotel stays around the world. You can find more information about our employee benefits in the Working Here section of our website Careers. Further information on what's it like to live and work in our cosmopolitan home city, can be found Jobs in Dubai – UAE Lifestyle section
How to Apply for Al-Futtaim Group Jobs?
To Apply for Al-Futtaim Jobs in Dubai – UAE. Click on Apply Link to get access to their Official Website. It will redirect you to the job notification page, where you can fill up the application page. To apply for Al-Futtaim Group Jobs.
First Login Your Account Then Submit Your :
1- Resume/CV
2- Cover Letter
3- Supporting documents
4- Must have a valid UAE driver's license
5- Passport-size photograph

Please follow the following important points while sending a job application to Al-Futtaim Careers.
What steps to be taken before forwarding the job application to Al-Futtaim Careers:
Prepare a professional Resume/CV which describes your knowledge and expertise in airline catering services.
Make soft copies of your diplomas, certificates, and degrees.
Create an impressive job application cover letter.
Create a job application folder in any USB data key or Google drive and keep safe all the above-mentioned soft copies.
To find the latest Al-Futtaim Group vacancies in Dubai, Abu Dhabi & Other States, click on the Below given Apply Link button.
| | |
| --- | --- |
| Job Title | Beauty Advisor | Watsons | Dubai Mall |
| Career Level: | Mid Career |
| Employment Type: | Full Time |
| Language(s) Proficiency: | English (Written & Spoken), Arabic |
| Nationality: | Any |
| Country: | United Arab Emirates |
| Benefits | Excellent Benefits As Per UAE Law |
| Expires Date: | 02-Feb-2023 |
About Company:
The Al-Futtaim Group is a large conglomerate based in Dubai, United Arab Emirates.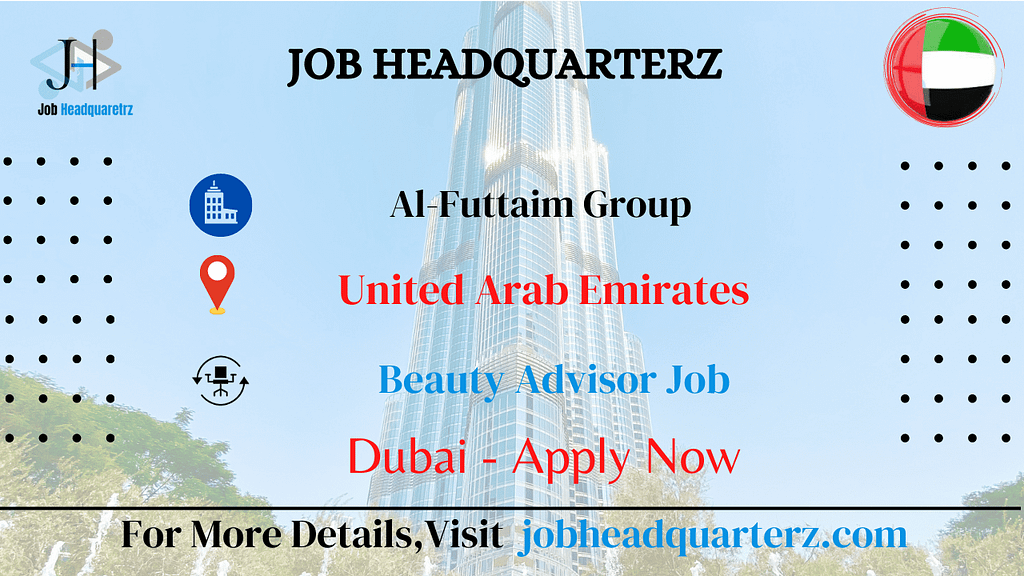 Related topics
1- Portuguese(Spoken in Language):-
Portuguese is currently the fifth most spoken language in the world and an official language of Portugal, Brazil, Angola, Cabo Verde, Guinea-Bissau, Mozambique, São Tomé and Príncipe, and East Timor. It is also used in Macau, a territory under Portuguese administration until 1999, and in Goa.
2- Portuguese – Country:-
Portugal is a southern European country on the Iberian Peninsula, bordering Spain. Its location on the Atlantic Ocean has influenced many aspects of its culture: salt cod and grilled sardines are national dishes, the Algarve's beaches are a major destination, and much of the nation's architecture dates to the 1500s–1800s when Portugal had a powerful maritime empire.
3- Swedish(Spoken in Language):-
In Sweden, virtually everyone speaks Swedish, or as they call it "Svenska." Spoken by around 10 million people, you'll not only find it in Sweden but in Finland and many bordering cities of Denmark, as well.
---
Also, check these jobs:
---
Related queries
1- job seeker visa Portugal:-
2- job seeker visa Portugal apply online:-
The job seeker visa entitles its holder to enter and remain only in Portugal to look for job; authorizes him/her to carry out a The job seeker visa entitles its holder to enter and remain only in Portugal to look for a job; authorizes him/her to carry out a subordinated work activity, until the visa expires or until the residence permit is granted.
VISA WEBSITE: https://vistos.mne.gov.pt/en/national-visas/necessary-documentation/job-seeker-visa
2- job seeker:-
Make applying for a job easy with Jobseeker. Find matching vacancies, create impressive applications and keep track of your activities. All in one Place!
VISA WEBSITE: https://www.jobseeker.com/en
---
FIND OUT RELATED JOBS
Follow JobHeadquarterz | Follow us on Twitter