JobsHQ brings latest jobs update. See the latest job from Meta & Apply Online
About Company
Meta Platforms, Inc., doing business as Meta and formerly known as Facebook, Inc., and TheFacebook, Inc., is an American multinational technology conglomerate based in Menlo Park, California. The company owns Facebook, Instagram, and WhatsApp, among other products and services……Data Center Business Enablement Manager Job in USA |Meta Job .
About Role
Data Center Business Enablement Manager to support Site Operations' growing team and expanding datacenter footprint. Meta's data centers are the foundation upon which our rapidly growing products and services are delivered worldwide.
1- Data Center Business Enablement Manager
Full Time
Los Lunas, NM, United States
Job Responsibilities
A- Establish frameworks and own outcomes across Site Operations for foundational business support functions such as hiring, onboarding, technical learning and development, knowledge management, financial management, communications, and collaboration event planning and facilitation.
B- Develop and collaboratively own the 3–5-year roadmap for enhancements to workforce planning (hiring, onboarding, technical development, etc.) and knowledge management efforts. Execute in partnership with the Geo leadership team.
C- Work effectively with cross-functional partners, specifically the Geo Business Support Managers, across the worldwide data center fleet to collaboratively build out and then execute frameworks for business support functions.
D- Provide people management, mentorship, coaching, and career development to members of the team to build a strong team culture and commitment to impact.
Job Requirements
A- Bachelor's or master's degree in business, engineering, or relevant experience.
B- 10+ years of current proven experience in managing teams that support the business operations functions such as technical training, knowledge management, budgeting, workforce management.
C- 5+ years of project/program management experience.
D- Experience influencing effectively, working with cross-functional teams to advance the needs of the team, and adapting as the needs change.
For more details, please scroll down & see the details.
Last Date to Apply: August-02-2022
Meta Careers – United States of America
| | |
| --- | --- |
| Job Title | Data Center Business Enablement Manager Job in USA |Meta Job |
| Company | Meta |
| Job Location | Los Lunas, NM, United States |
| Date Posted | July/19/2022 |
| Employment Type | Full Time |
| Last date to apply | August/02/2022 |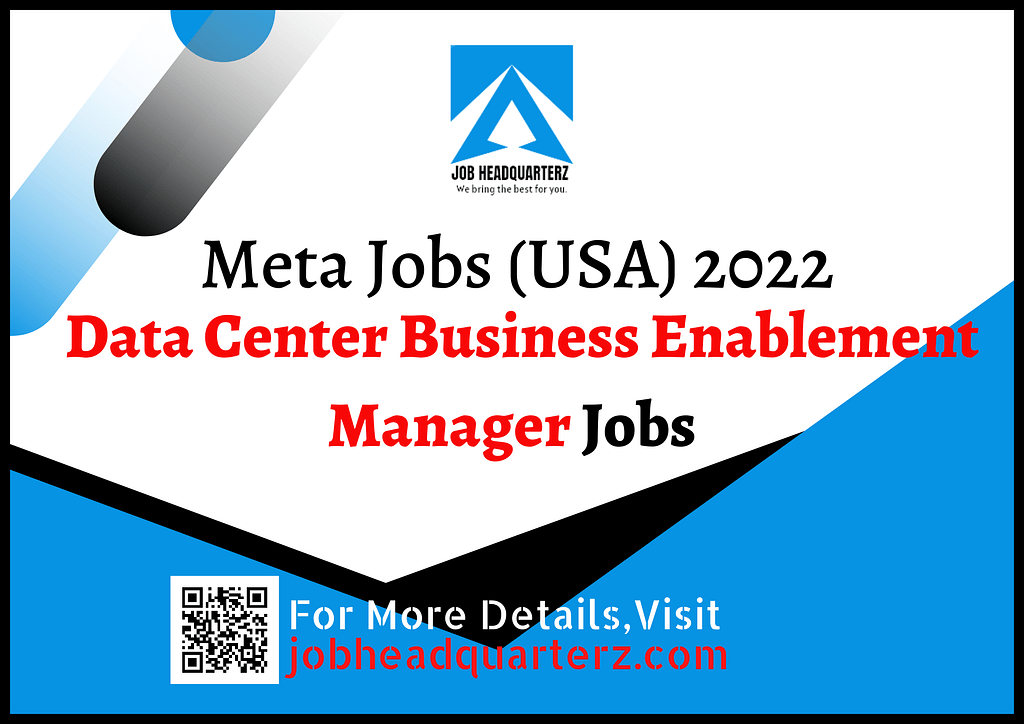 Click the below apply link & start your application.
See related jobs
Job Headquarterz. Follow us on LinkedIn