JobsHQ brings latest jobs update. See the latest job from Apple & Apply Online
About Company
Apple Inc. is an American multinational technology company that specializes in consumer electronics, software and online services headquartered in Cupertino, California, United States……Senior Product Manager Job at Apple Career 2022 | Jobs in USA.
About Role
At Apple, we turn exceptional ideas into inspirational reality. We are seeking a passionate Software/Data Engineer to lead and take on product management responsibilities as part of this unique tea.
1- Senior Product Manager
Full Time
California, United States

Job Responsibilities
A- The MSI team partners closely with several business and engineering groups, anticipating the needs of our end customers often before they do.
B- While Monday might start with helping an AI/ML engineer work through a data acquisition problem, Friday might require you to understand a complicated manufacturing process and enable a test team to optimize it.
C- Quickly understanding complex problems and following up with credible solutions is essential for success in this fast-growing division.
D- We are evolving our factory data infrastructure to encompass existing data collection technologies (Hadoop, parametric, attribute etc) as well as new ones (image captures, RFID, IoT sensors, etc.).
Job Requirements
A- Prior experience with Software/Data Engineering and product management, as a technical analyst or Product Manager OR 5+ years in a core contributor software role with a desire to transition to a hybrid role.
B- Experience with system software engineering, data or ML Operations or similar and with taking a product through a full life cycle: from inception, to launch, to customer management.
C- Cross Domain experience, our systems intersect the areas of: Big Data, Hardware, Operations Research, Analytics & Data Warehousing, User Experience, Advanced Manufacturing, Supply-chain and Logistics management, Machine Learning & Artificial Intelligence and Cloud computing and automated infrastructure.
D- Experience with in-depth user interviews and staring with the why's.
E- Bachelor's degree in a technical field (e.g., Computer Science, Engineering) or equivalent relevant industry work experience.
F- MBA or similar degree highly preferred.
For more details, please scroll down & see the details.
Last Date to Apply: Jul-31-2022
Apple Careers – United States of America
| | |
| --- | --- |
| Job Title | Senior Product Manager Job at Apple Career 2022 | Jobs in USA |
| Company | Apple |
| Job Location | California, United States |
| Date Posted | July/16/2022 |
| Employment Type | Full Time |
| Last date to apply | July/31/2022 |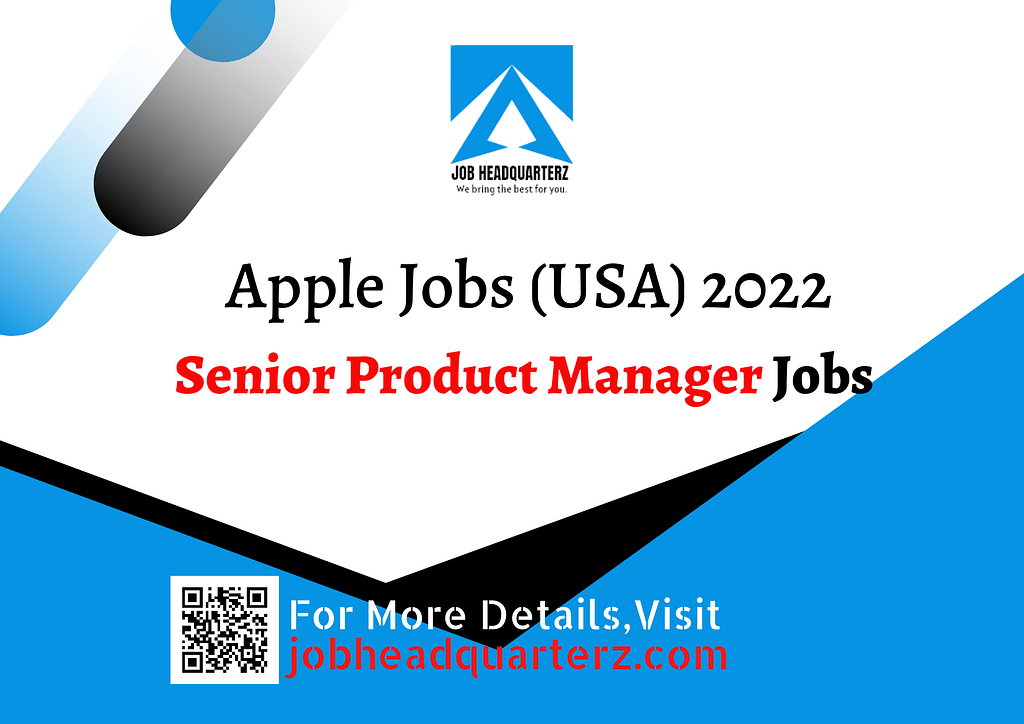 Click the below apply link & start your application.
See related jobs
Job Headquarterz. Follow us on LinkedIn