JobsHQ brings latest jobs update. See the latest job from Nestle & Apply Online
About Company
Nestle S.A. is a Swiss multinational food and drink processing conglomerate corporation headquartered in Vevey, Vaud, Switzerland. It is the largest publicly held food company in the world, measured by revenue and other metrics, since 2014. ……Senior Retail Sales Associate Job at Nestle| Job in USA 2022.
About Role
We are seeking a passionate and dynamic Senior Retail Sales Associate for our community who will drive sales & service, support management team with boutique opening/closing duties and sustainability through respectful, collaborative, agile, determined, and driven interactions with clients and team members.Our culture empowers us to provide quality coffee, experience-focused customer service, growth opportunities and a variety of benefits with perks. Join our team as we cultivate coffee as an art to grow the best in each of us.
1- Senior Retail Sales Associate
Full Time
New York City, New York, United States
Job Responsibilities
A- Be an agile coffee expert. You bring the passion, we provide the training, and you share it with the customer.  
B- Drive personalized coffee experiences, using storytelling to share your knowledge of our coffee and our sustainability practices with customers.
C- Cultivate respectful customer relationships. Though many customers shop online these days, the store is where we meet many of our customers for the first time.
D- Care about safety. We are determined to create a safe, healthy environment for our employees and customers.
E– Collaborate – whether it's assisting with cleaning, organizing stock or innovating a better way of doing things. Share your feedback and ideas to contribute to our overall success!.
Job Requirements
A- High School Diploma or GED, required.
B- 1 year or more experience in retail, direct customer sales & service, or hospitality, preferred.
C- A real passion for coffee, respect for sustainability, and curiosity to educate oneself and others on our coffee culture.
D- A respectful, agile, collaborative, determined, and driven mindset.
E– Ability & willingness to work flexible hours including but not limited to: opening & closing shifts, Saturday or Sunday shifts, & holidays.
For more details, please scroll down & see the details.
Last Date to Apply: Aug-08-2022
Nestle Careers – United States of America
| | |
| --- | --- |
| Job Title | Senior Retail Sales Associate Job at Nestle| Job in USA 2022 |
| Company | Nestle |
| Job Location | New York City, New York, United States |
| Date Posted | July/29/2022 |
| Employment Type | Full Time |
| Last date to apply | Aug/08/2022 |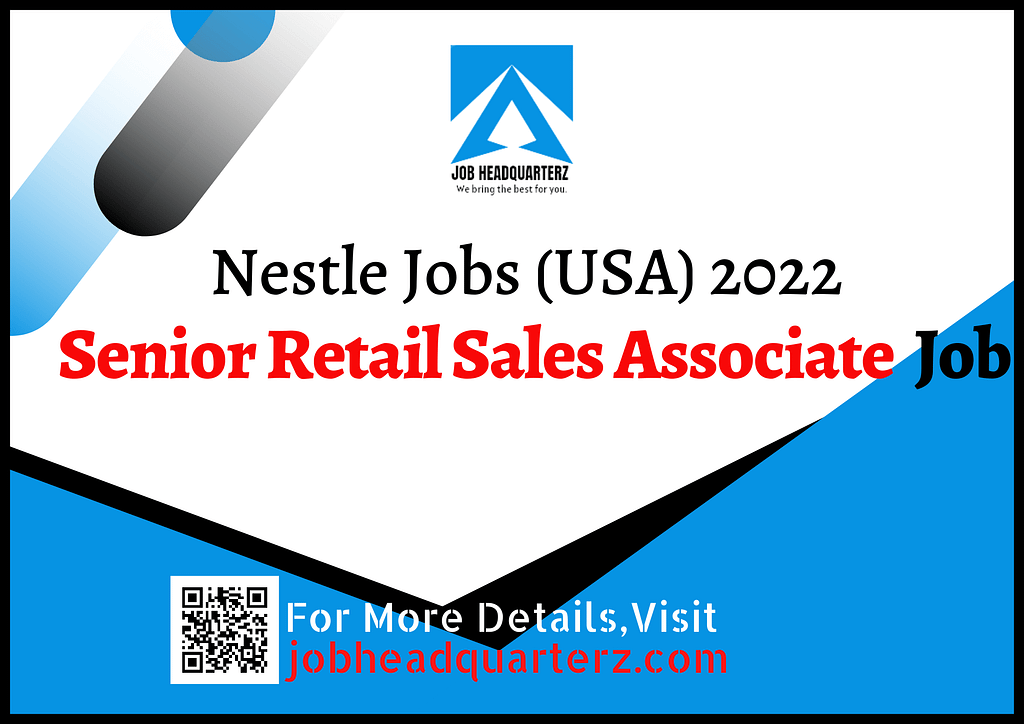 Click the below apply link & start your application.
See related jobs
Job Headquarterz. Follow us on LinkedIn