JobsHQ brings latest jobs update. See the latest job from TikTok & Apply Online
About Company
TikTok, known in China as Douyin, is a short-form video hosting service owned by Chinese company ByteDance. It hosts a variety of short-form user videos, from genres like pranks, stunts, tricks, jokes, dance, and entertainment with durations from 15 seconds to ten minutes…..Software Engineer Intern (PhD) Job at TikTok| USA Jobs 2022.
1- [Campus] Software Engineer Intern (PhD) (Technical Infrastructures-US-Compute Orchestration) – 2022 Summer
Full Time
Mountain View, United States

About Role
Internships at TikTok aim to provide students the chance to work with our clients and teams to address key business problems and identify areas of growth for the company. With your education and experience, you will be able to take on real-world challenges from day one.
Job Responsibilities
A- Build new features for our Next-Gen application orchestration framework for supporting hundreds of millions of diversified Cloud-Native applications across clouds.
B- Solve unique, large-scale, highly complex technical problems.
C- Build framework (e.g., smart simulations) to benchmark our K8s scheduler in super-large scale, and drive innovation on scheduler technology.
D- Help to harden our K8s platform to be more secure and reliable in a super dynamic and multi-cloud & multi-tenant environment.
E- Participate in technical discussions related to team's product and engineering work.
Job Requirements
A- Currently pursuing a Bachelor's or Master's degree in Computer Science or a related field.
B- Able to commit to working for 12 weeks during Summer 2022.
C- Experience with coding in Python, Java, Golang, C#, or C++.
D- Must obtain work authorization in country of employment at the time of hire, and maintain ongoing work authorization during employment.
E- Intent to return to degree-program after the completion of the internship.
F- Demonstrated software engineering experience from previous internship, work experience, coding competitions, or publications.
For more details, please scroll down & see the details.
Last Date to Apply: August-02-2022
TikTok Careers – United States of America
| | |
| --- | --- |
| Job Title | Software Engineer Intern (PhD) Job at TikTok| USA Jobs 2022 |
| Company | TikTok |
| Job Location | Mountain View, United States |
| Date Posted | July/20/2022 |
| Employment Type | Full Time |
| Last date to apply | August/02/2022 |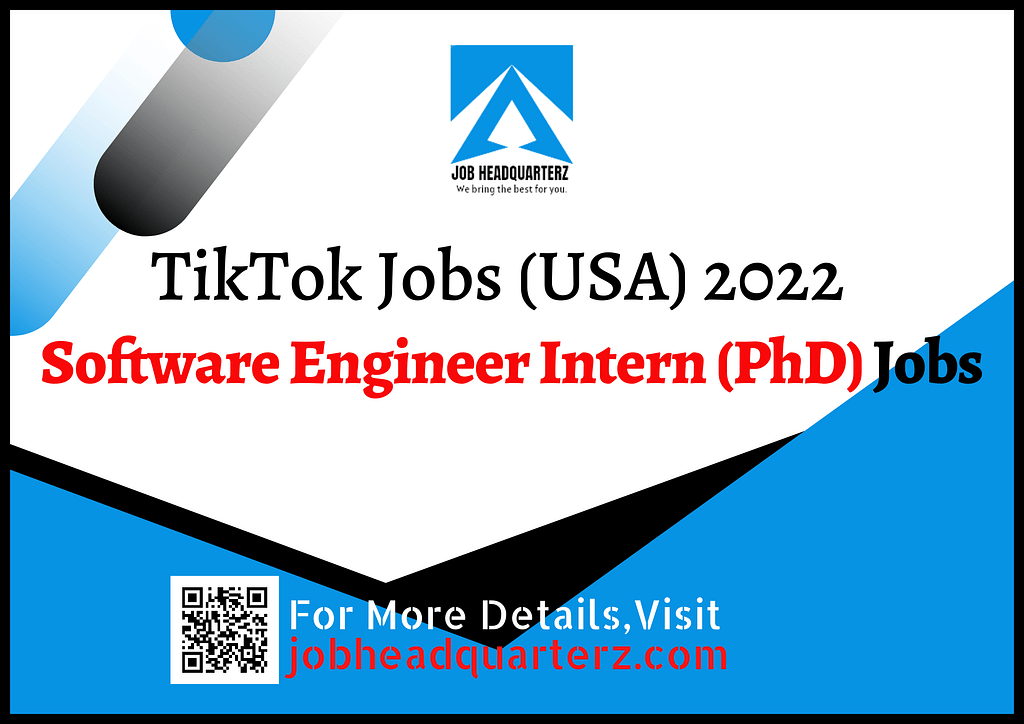 Click the below apply link & start your application.
See related jobs
Job Headquarterz. Follow us on LinkedIn