JobsHQ brings latest jobs update. See the latest job from American Express & Apply Online
About Company
American Express is an equal opportunity employer and makes employment decisions without regard to race, color, religion, sex, sexual orientation, gender identity, national origin, veteran status, disability status, age, or any other status protected by law. ……Sr Data Engineer Custodian Job at American Express |USA Job.
About Role
You are part of the team responsible for bringing data systems under governance with the data policy within your domains/business units. You will partner with business process owners and business product owners to implement data policy and standards for the Physical Data, including Metadata, data quality rules, lineage, transformation, implementing technical controls, and remediation of technical data quality issues.
1- Senior Data Engineer Custodian
Full Time
Phoenix, Arizona, United States
Job Responsibilities
A- Supports the implementation and maintenance of Enterprise Data Governance policy requirements and standards for data and data systems within your domains/business units. 
B- Gain expertise on data consumed and produced and works with Business Stewards and Business Process Owners to implement data controls.
D- Ensures the defined Data Quality Control rules and Technical and Operational Metadata are documented, maintained, and updated on a recurrent basis.
E- Responsible for communicating, maintaining and publishing the results of Data Quality Controls into the Enterprise Data Quality Scorecard.
F- Partner with data Business Process Owners to define mitigating controls for identified risks involving critical data and address issues, including but not limited to, data accuracy, safeguarding and terminology consistency.
Job Requirements
A- 8+ years of direct work experience in large scale/enterprise data projects, with at least 2 years of experience relating to creation and execution of data governance and/or data management programs.
 B- Understanding of Data Management and Data Governance concepts (metadata, lineage, data quality, etc.) and related metrics to monitor compliance of Data Governance policy and standards.
C- Prior experience implementing Data Management / Data Governance programs.
D- Preliminary understanding on data domains, key data roles and responsibilities – data steward, data custodian, business process owner etc.  
For more details, please scroll down & see the details.
Last Date to Apply: Aug-03-2022
American Express Careers – United States of America
| | |
| --- | --- |
| Job Title | Sr Data Engineer Custodian Job at American Express |USA Job |
| Company | American Express |
| Job Location | Phoenix, Arizona, United States |
| Date Posted | July/22/2022 |
| Employment Type | Full Time |
| Last date to apply | Aug/03/2022 |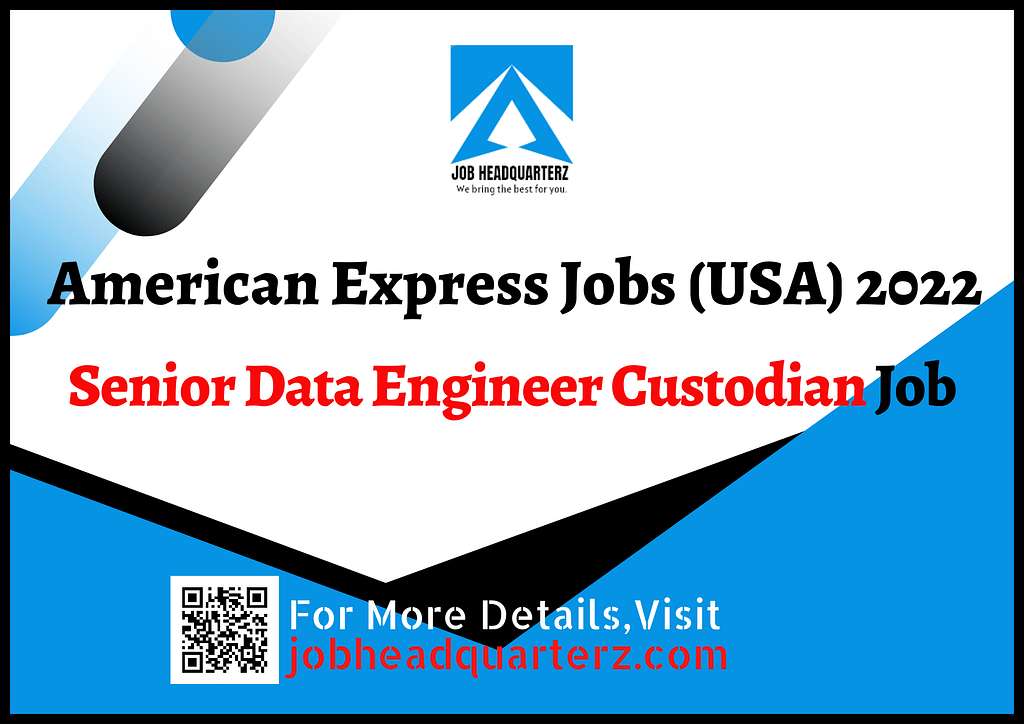 Click the below apply link & start your application.
See related jobs
Job Headquarterz. Follow us on LinkedIn