JobsHQ brings latest jobs update. See the latest job from Coca-Cola & Apply Online
About Company
Coca-Cola, or Coke, is a carbonated soft drink manufactured by the Coca-Cola Company. Originally marketed as a temperance drink and intended as a patent medicine, it was invented in the late 19th century by John Stith Pemberton in Atlanta, Georgia. ……Supervisor Maintenance Job in Coca-Cola| USA Jobs 2022.
About Role
We are taking deliberate action to nurture an inclusive culture that is grounded in our company purpose, to refresh the world and make a difference. We act with a growth mindset, take an expansive approach to what's possible and believe in continuous learning to improve our business and ourselves.
1- Supervisor Maintenance
Full Time
Auburndale, FL, USA

Job Responsibilities
A- Acts as the principle contact between Production supervision and the Maintenance Department. Notes Production improvement suggestions and coordinates analysis of suggestion validity, planning and implementation via the Planning and Scheduling.
B- Ensures the production areas receive prompt, efficient and quality service from the maintenance function and ensures the maintenance function is given the opportunity to provide this service.
C- Coordinates Plant maintenance requirements with the Planner/Scheduler to effect necessary upgrades, modifications and repairs.
D- Keeps the Maintenance Manager properly informed on all abnormal or critical situations and seeks advice on matters outside of the supervisor's knowledge or authority.
Job Requirements
A- 4-years production plant experience with mechanical/electrical background necessary and 4-year degree or tech school background desired. Certified Maintenance Reliability Professional (CMRP) or equivalent is highly desired.
B- Adequate craft knowledge to estimate labor hours and materials and to visualize the job to be performed.
C– Good oral/written communication skills and possession of tact.
D- Good administrative and mathematical skills with willingness to handle paperwork.
For more details, please scroll down & see the details.
Last Date to Apply: July-12-2022
Coca-Cola Careers – United States of America
| | |
| --- | --- |
| Job Title | Supervisor Maintenance Job in Coca-Cola| USA Jobs 2022 |
| Company | Coca-Cola |
| Job Location | Auburndale, FL, USA |
| Date Posted | June/29/2022 |
| Employment Type | Full Time |
| Last date to apply | July/12/2022 |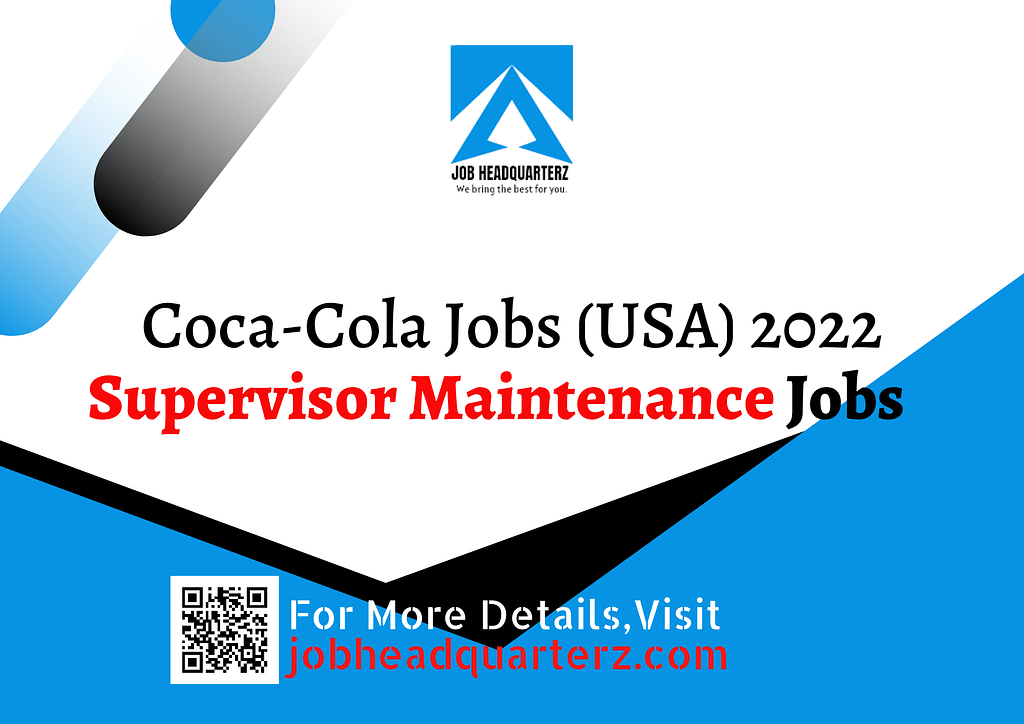 Click the below apply link & start your application.
See related jobs
Job Headquarterz. Follow us on LinkedIn