GEMS Education is looking to hire staff & Apply Now. See complete job details including job description, responsibilities, salary & requirements. Eligible candidates are encouraged to apply. Submit Your Application To Click On Apply Link For Position – Teaching Assistant | Dubai Job in GEMS Company.
---
Company: GEMS Education
Business Unit: GEMS WORLD ACADEMY – DUBAI
Job Type: Full-Time
Salary: AED
Location: Dubai
Closing Date: Feb – 28, 2023
---
position And Detail OF the Job & Apply Link Are Given Below:
—- | Teaching Assistant – Expressive Arts Department | —-
Job Description
We are looking for Teaching Assistant – Expressive Arts Department Jobs in Dubai – UAE.
You will hold a key role in supporting the Teacher/ Lead Practitioner in promoting the learning and personal development of all students. Your role will be carried out mainly within the music department of the school, however, you will also support the Teacher and the School in other aspects related to assisting teaching and learning across the school.
About Your Benefits–
A- An excellent remuneration package is on offer for a successful candidate, including a competitive tax-free salary, medical and life insurance, working permit and residence visa, tuition fee concession, and other benefits in line with the UAE Labour Law.
About You–
A- You will hold a High school certificate and have a minimum of two years experience in a teaching and learning environment.
B- You will be knowledgeable about behavior management strategies and will be skilled in promoting good behavior and discipline.
C- Preference will be given to candidates with a Bachelor's Degree and/or to those who hold a teaching qualification.
D- You will be able to effectively communicate and influence students, parents, teachers, and school Leaders.
E- You will be well-organized and willing to develop your skills to acquire further knowledge and to continuously improve in a professional teaching and learning environment.
Salary & Benefits-
Join us in Dubai – UAE and enjoy an attractive tax-free salary and travel benefits exclusive to our industry, including discounts on flights and hotel stays around the world. You can find more information about our employee benefits in the Working Here section of our website Careers. Further information on what's it like to live and work in our cosmopolitan home city, can be found Jobs in Dubai – UAE Lifestyle section
How to Apply for GEMS Education Jobs?
To Apply for GEMS Education Jobs in Dubai – UAE. Click on Apply Link to get access to their Official Website. It will redirect you to the job notification page, where you can fill up the application page. To apply for GEMS Education Jobs.
First Login Your Account Then Submit Your :
1- CV
2- Cover Letter
3- Supporting documents
4- Must have a valid UAE driver's license

Please follow the following important points while sending a job application to GEMS Education Careers.
What steps to be taken before forwarding the job application to GEMS Education Careers:
Prepare a professional Resume/CV which describes your knowledge and expertise in airline catering services.
Make soft copies of your diplomas, certificates, and degrees.
Create an impressive job application cover letter.
Create a job application folder in any USB data key or Google drive and keep safe all the above-mentioned soft copies.
To find the latest GEMS Education vacancies in Dubai, Abu Dhabi & Other States, click on the Below given Apply Link button.
| | |
| --- | --- |
| Job Title | Teaching Assistant |
| Career Level: | Mid Career |
| Employment Type: | Full Time |
| Language(s) Proficiency: | English (Written & Spoken), Arabic |
| Nationality: | Any |
| Country: | United Arab Emirates |
| Benefits | Excellent Benefits As Per UAE Law |
| Expires Date: | 2023-Feb-28 |
About Company:
GEMS Education, founded as Global Education Management Systems, is an Indian Emirati-based education company. It is a global advisory and educational management firm, and is the largest operator of kindergarten-to-grade-12 schools in the world, with a network of over 80 schools in over a dozen countries.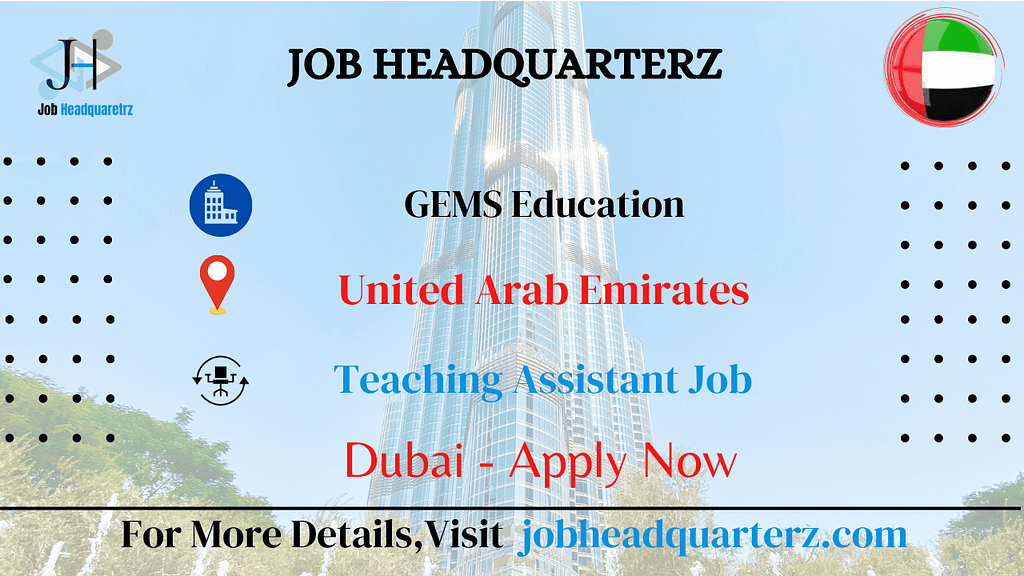 Related topics
1- Portuguese(Spoken in Language):-
Portuguese is currently the fifth most spoken language in the world and an official language of Portugal, Brazil, Angola, Cabo Verde, Guinea-Bissau, Mozambique, São Tomé and Príncipe, and East Timor. It is also used in Macau, a territory under Portuguese administration until 1999, and in Goa.
2- Portuguese – Country:-
Portugal is a southern European country on the Iberian Peninsula, bordering Spain. Its location on the Atlantic Ocean has influenced many aspects of its culture: salt cod and grilled sardines are national dishes, the Algarve's beaches are a major destination and much of the nation's architecture dates to the 1500s–1800s, when Portugal had a powerful maritime empire.
---
Also, check these jobs:
---
Related queries
1- job seeker visa portugal:-
2- job seeker visa portugal apply online:-
The job seeker visa entitles its holder to enter and remain only in Portugal for the purpose of looking for job; authorizes him/her to carry out a The job seeker visa entitles its holder to enter and remain only in Portugal for the purpose of looking for job; authorizes him/her to carry out a subordinated work activity, until the visa expires or until the residence permit is granted.
VISA WEBSITE: https://vistos.mne.gov.pt/en/national-visas/necessary-documentation/job-seeker-visa
2- job seeker:-
Make applying for a job easy with Jobseeker. Find matching vacancies, create impressive applications and keep track of your activities. All in one Place!
VISA WEBSITE: https://www.jobseeker.com/en
---
FIND OUT RELATED JOBS
Follow JobHeadquarterz | Follow us on Twitter